MEASURES COVID 19 HOTEL ALAY
1
. Measures to ensure safety distance between customers and employees
in all our facilities.
2
. All hotel employees will be trained in mandatory courses on Post COVID hotel work performed by QUIRON SALUD.
3
. Installation of disinfecting rugs at the hotel entrances.
4
. Individual temperature control without contact with infrared thermometers.
5
. Installation of application to perform check-in (online check) through screen.
6.
Hand sanitizer gel available in all areas of the hotel.
7
. Rigorous standards of disinfection and cleaning with special products from our rooms.
8.
Disinfection system in air conditioning by photovoltaic ionization system.
9
. Textile washing with specific products for virus removal never
below 70ºC temperature.
10
. Cleaning and disinfection of upholstery through ultraviolet light system.
11
. Receipt of goods in a "clean" area with ozone treatment before distribution to the hotel departments.
12
. Variety of dining options, expansion of outdoor spaces as well as the à la carte / snack service hours in our bars.
13
. Special attention in disinfection security measures for the entire food chain, using the ozone system, UV rays, specific products and specially trained personnel.
14
. Our 3 perfectly equipped swimming pools to enjoy them while maintaining
the safety distance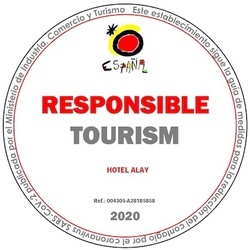 According to our guestsReviews
The years pass, they surpass the 22 of our summer stays. The people who took him in that time pass by and the essence of the Hotel remains intact and continues to trap, without possible escape, all the customers who are fortunate enough to meet him. Thanks Hotel Alay.
Toni guestbook Hotel Alay
When you enjoy somewhere, you have to find the color of the fruit you like in that place, find the place where they serve the best coffee you've ever had, find the place where you eat the best snack that satisfies you with more garrison, and the place where you eat the best croissant, and above all and above all, where you receive with the best smile, the best open hug, and with the heart and good host, along with a song to humor and good people.
Sloy guestbook Hotel Alay
Hotel Alay represents the essence of what a holiday should be. Tranquility, courtesy, service, location. Not just recommendable, it's simply a safe option.
Sara Ruiz Executive, Valencia
You will find this completely remodeled hotel with spectacular views in Puerto Marina.
The sunrise at the beach of Puerto Marina with the sea in the background is a worthy spectacle.
David Muñoz CTO, Madrid
The staff is very polite and friendly.
The location is very good. The exit leads to the promenade.
The room is comfortable and elegant.
Sofia Magañas Head of Marketing, Galicia